LGA Content Writing Course
Hello, guys!
Are you excited to become a master in Professional Content Writing? And ready to take your blogging and freelancing to the next level to earn big bucks online?
If YES, then look no further than Digital Applications' online Practical & Professional Content Writing Course!
Learn practical and SEO-friendly content writing skills with us and bring valuable traffic to your websites. From Educational and Informative to Reviews, Affiliate, eCommerce, Tools-based, and Services Content, you'll master them all!
But wait, there's more!
We're even offering guidance on the most searchable AI writing tool, called "ChatGpt." Learn everything from prompt engineering to creating helpful content with this tool, all in our pocket-friendly writing course.
So, what are you waiting for?
Take action now and unlock the path to a successful career in content writing and freelancing.
What will you learn in Digital Applications' Content Writing Course?
This course is developed for students who want to learn more and earn more as SEO content writers. In this course, you will learn to create and write a value-added SEO-oriented copy that is certainly ranked on search engines. Moreover, you will know what you should avoid while creating SEO-friendly content.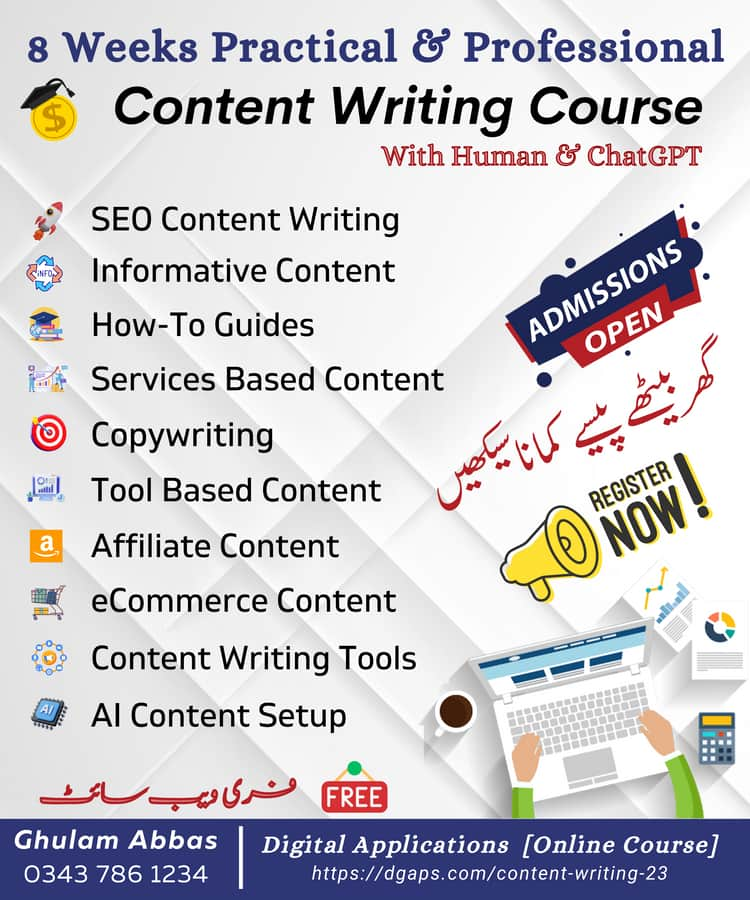 Search Engine Optimized Content
This course will help you to understand different kinds of keywords and their uses. You will learn to write and optimize structured content to rank for the targeted keywords. Most importantly, you will understand all the parameters that Google uses to analyze your content for better ranking.
Value Added Content
Most writers think, if they create unique (plagiarism-free) content, that is value-added, and Google will appreciate it. According to the new update of Google Algorithm "Helpful Content", Google always cares about what kind of value addition you are giving to your readers. So, this is more important to understand the intent of your users while writing for them to add value. You will learn the steps you can take to add value for your users to get a better ranking.
Effective and Creative Writing
We will train you to utilize your thinking abilities for your benefit. You will learn how to research and write effective sentences creatively for your copies.
By the end of this course, you will be able to write SEO-friendly content, proofread, and use different writing tools confidently.
AI-Driven SEO Writing
Unlock the Power of AI in Content Writing! Join our course to create user-friendly content with AI while mastering the do's and don'ts of incorporating AI in SEO writing.
Unleash your writing potential and captivate your audience with this transformative blend of human creativity and AI capabilities. Revolutionize your content creation and stay ahead of your competition. Enroll now!
Learning During The Course
In this course, you will learn and assess your skills with practical exercises, active QAs, and discussions. You will be given writing assignments every week to give you a chance to apply what you have learned. You will also have the opportunity to review others' assignments through peer review.
FAQs
Here, we have covered commonly asked questions about the course. If you have any other queries, which are not listed, please free free to ask through our social media accounts given below:
Read all the questions below, and feel free to ask anything.
Who should attend this course?
This course is for everyone (beginners and professionals) who want to learn content writing and improve their writing skills can join this course.
Students (who have passed their matriculation)

People who want to improve their English writing skills

People who want to be a professional content writers

Freelancers who wants to learn a new skill

SEO professionals who wants to improve their understanding of SEO based content

Bloggers who wants to learn and improve SEO-oriented content writing

Vloggers who wants to learn content writing
Who should not attend this course?
Before enrolling in this course, closely examine these points and ask yourself if you fall in this category! Once you are clear about these factors, and you think you do not fall in this category, then you can go to next step:
Do you think blogging & freelancing is a shortcut to easily earned money?

Do you lack patience and have no stamina for long readings?

Do you lack consistacy?

Are you a trying multiple feilds at a time?

Do you not feel motivated in self-employement?

Do you think you have less time for concentration?

Do you think you are not a person of discipline?

Do you have not set your priorities?

Do you not invest yourself and your time in learning?

Do you not think that blogging and freelancing is real business opportunity?

Do you have wrong conception about freelancing?
What are the salient features of this course?
There is more to learn through this Practical & Professional Content Writing Course. Some of the valuable features of this content writing skill learning program are mentioned below:
Live classes

Join a virtual multi-cultured classroom

Recording also available

WhatsApp group for discussions and notifications

Practical exercises

Progress assessment based on weekly assignments
What are the class timings and schedule?
This is an online course, and we will take all classes through Zoom Application. There will be two classes every week at a given time. We will inform students if there will be any extra classes or changes in class timings. InshaAllah, the orientation class will be on 14th Aug 2023.
1st Class on Monday [online] from 9:00 pm to 10:30 pm
2nd Class on Tuesday [online] from 9:00 pm to 10:30 pm
What will be the Fee Structure of this course?
We are offering this course at the lowest possible fee of PKR 2,000 for Pakistanis & $30 for International & Overseas. We spend the dues you pay to meet this course's expenses only. We are not offering or giving away any free or discounted seats for this course. This is a one-time (without installments), non-refundable, and non-transferable fee.
How to get admission in this course?
Follow these steps to register for this course:
Open this link: https://dgaps.com/english or Google Registration Form.

Follow the Registration Form's instructions.

Pay your Fee in any of the listed accounts.

Attach the Screenshot or Proof of Payment with the form.

Once you submit the Registration Form successfully, you will receive a confirmation. WhatsApp text within a day or two.

After registration, we will add you to our WhatsApp Course Group for notifications and updates about classes.

You can also visit our office [Digital Applications] to get registered.

If you cannot find our office location, dial this number: 0343 786 1234.
Who will teach this course?
Professional writers and field experts will teach the course. Those who have already conducted different writing training will be assigned different topics to teach you. This course will be done under the core supervision of our CEO, Engr. Ghulam Abbas, our expert trainer Shaista Nasir & our expert Content Writer Zainab Akram. You can learn more about them in the section below.
Who is Engr Ghulam Abbas?
Ghulam Abbas, a top-rated freelancer, will be your Instructor. Here is a brief introduction about him:
Ghulam Abbas, CEO of Digital Applications Software House in Pakistan
Education:
BS Systems Engineer [Gold Medalist]
MS Signal Processing Engineer [Gold Medalist]
Experience:
CEO of Digital Applications Software House
Founder of Umeed Welfare Khanewal
Top Rated Freelancer [Top 1000 in the world]
Success Story Published on Freelancer .com
Freelance IT Trainer [He has conducted Workshops related to IT & Freelancing in more than 15 Universities]
Guest Speaker in National IT Events like Summit Punjab
Handling Many National & International IT projects, including some Projects of the Govt. of Pakistan
Some NDA signed big international projects
Ex-Lecturer Electrical Engineering Department in Institute of Space Technology Islamabad
He - currently teaching many different online & in-house courses. Most of them are free of cost, and some with premium subscriptions.
Self Earning: Earned more than a Million USD from Digital World. [Record Earning]
Who is Shaista Nasir?
Shaista Nasir holds an M.A. in English with distinction and boasts profound experience in training and writing. She has been working in the digital industry as a Writer for over 10 years. Her expertise as a Technical Writer encompasses the following:
Project reports, technical reports, and compliance documents writing and compilation for the software Certification purpose. (at Digital Applications since 2012)
Prepared software security documents, proposals, and user manuals for clients worldwide (more than 800).
Conducted ISO internal audit 2009 for Finance and HR Department to enhance evaluation and performance process for a British organization.
Has been writing and publishing articles for internet marketing and content for SEO optimizing for clients worldwide (More than 3000).
Has written academic research papers with guaranteed A+ Grades (More than 20)
Has developed and implemented video tutorials for online training purposes.
As an English literature student, she has also been doing creative writing as per her passion for renowned organizations.
Who is Zainab Akram?
An English major and still graduating, Zainab Akram has spent the past three years passionately honing her skills and gaining valuable experience in the digital content creation industry as a raw talent.
Here's a summary of her accomplishments so far:
Creates top-notch SEO-friendly content on diverse topics at Digital Applications (1000+ articles).
Uses AI for unique, helpful content on searches.
Expertly structures content for clear, organized ideas.
Experienced proofreader; edited countless articles globally (1500+).
An SEO expert driving higher rankings and a competitive edge.
Proud trainer, guiding aspiring writers to excel in SEO content.
Still, is there any confusion? Please WhatsApp here: 0343 786 1234