Practical SEO Training Course in Khanewal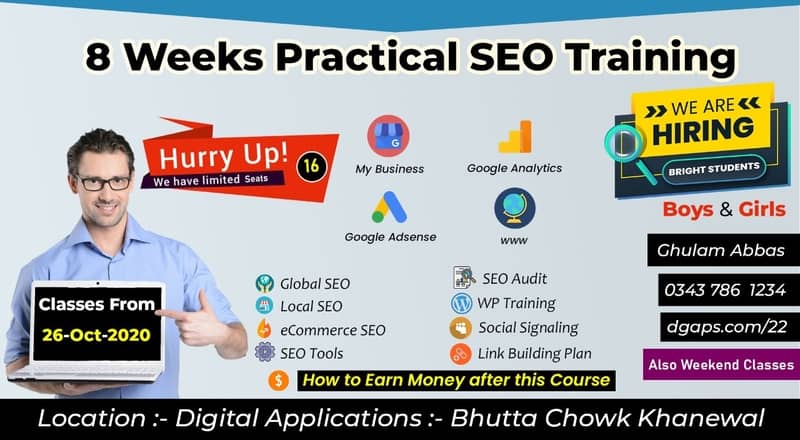 SEO Experts Training: Tool of Success in Online Business
Digital Applications proudly announces the commencement of SEO Experts Training in Khanewal. Our expert team of SEO professionals will give you training on the best techniques and practices that will make you understand how to boost a website's rankings on top search engines like Google, Yahoo, and Bing using SEO. In addition, you will learn the fundamental knowledge of SEO work you need to work for your website or to supervise an SEO team or other SEO company.
What is Search Engine Optimization?
SEO includes the practices and tools of the process that is used to rank your website higher in the top Search Engines like Google, Yahoo, and Bing. In this age of Digital Marketing, SEO has become the basic component of Online Marketing.
Why should you learn SEO (Search Engine Optimization)?
Probably you own a startup and the success of your business depends on your website. Might be you develop websites and you have to do SEO for your clients. On the other hand, you are a freelance SEO professional and you have to do SEO for your employer's website to improve its ranking. Or maybe you are hired by an SEO firm and you're not sure if you're doing your job right or probably have to hire an SEO firm and is afraid whether it is good or not..!!
Whatever is your situation, Digital Applications' SEO Experts Training will guide you step-by-step through the process with simple examples, common sense, and advice. SEO is not rocket science; there are fundamental rules that will bring success if you follow them accordingly.
Related Post:
Whom this SEO Experts Training is for:
If you own or manage websites and not a very technical person, you will need to know SEO to avoid SEO scams.
Online marketers need to have SEO understanding and knowledge.
This course is designed for programmers who develop websites and applications and need to get knowledge of SEO.
This course is perfect for web developers who want to learn SEO to optimize the client's website.
Established Businesses are planning to hire other SEO firms will have an understanding of what should the SEO firm do and if the firm is doing their job right.
This course will be helpful for startup people who want to increase their website traffic whether optimizing websites on their own or hiring an SEO company.
Requirements for This Course:
No basic requirements for this course:
You do not need to know anything about Search Engine Optimization. We will explain everything about the SEO you need.
No matter if, you do not have any technical information regarding web pages. This course will teach you how to supervise website development from the SEO aspect.
What Will You Learn In Digital Applications' SEO Experts Training?
It seems like Search Engine Optimization is a very complicated business. However, Digital Applications' SEO experts training make it a very simple process for you and explain everything included in SEO:
How to build a website while avoiding mistakes that can harm your website
How to pick effective keywords for SEO
How to optimize your web pages: formatting text, meta tags, images, etc.
What is the importance of content in SEO
How to boost SEO with structured data
Local (location-based) Search Engine Optimization
How to submit your website to directories and search engines
Importance of link-building and how can it work for you
How to find appropriate places for link building for your website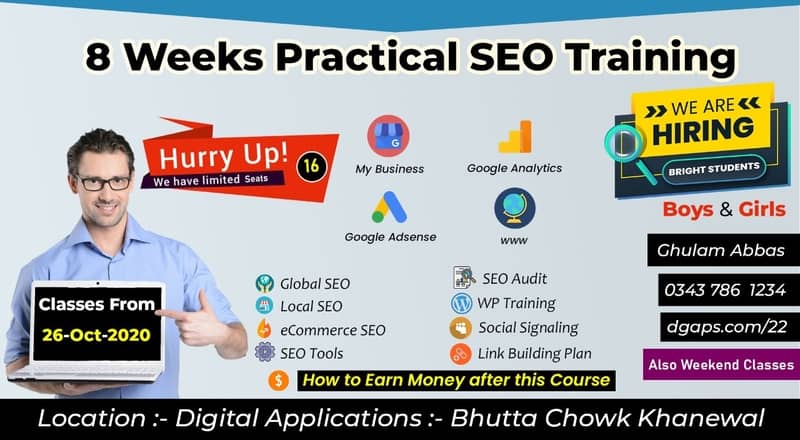 Course Duration:
This is an 8 Weeks course with theory, practical & projects. If students do not get all the topics within 8 Weeks, we will extend the duration to 10 Weeks and no extra fee will be charged.
Class Timings:
There are multiple sessions at the same time. There are weekdays & weekend sessions for both boys and girls. Weekday session has 3 days class in a week and 2 hours in a day while the weekend session has 2 days class in a week and 3 hours in a day. Timings may vary from session to session. You better to visit our office or call here: 0343-786 1234 to get the latest information.
Related Post:
Course Fee:
The registration fee for this course is 1,000 PKR and the Monthly fee is 2,500 PKR. If you pay a lump sum for a whole course, you will pay only 4,000 PKR for the full course irrespective of duration. There will be a special discount for talented, needy, and group students.
Content and Overview:
This SEO Experts Training clarifies the fundamentals of an effective Search Engine Optimization campaign.
In the initial phase, you will understand the importance of keywords and how to find the best keywords for your website. In addition, you will learn how to find what people are searching for and how to optimize your website to get higher ranks in search engines.
You will learn, what role text content plays in a website's SEO. In addition, how to optimize pages with important tags? You will get to learn about structured data tools – a method to tell search engines that what kind of content your web pages contain, software, articles, music, reviews, comments, etc.
This course will teach you how to submit a website in Google Search Console and other Webmaster tools. In addition, you will learn the submission of websites into search directories.
We will guide you through the most challenging part of SEO the "LINK BUILDING". This course will explain why links are important and how does link juice work?
In this course, you will learn SEO strategies that really work. Internet is loaded with Search Engine Optimization's information that you can get astounded. Actually, SEO is simple comparatively. By the end of Digital Applications' SEO Experts Training, you will have solid grounds in Search Engine Optimization. You will be able to your website's Search Engine Optimization on your own or to administer web developers or manage SEO companies to be ensured the work is done accordingly.