Defiway: Multiple Tools for Crypto in One Service
With cryptocurrencies, the term 'finances' has expanded. Since digital tokens came about, money has become such a versatile sphere: nowadays, it can exist in different forms, be transferred immediately between countries, and more. By adopting crypto, we said bye-bye to daunting conventional banking operations and even became potent to overcome inflation in some ways.
Cryptocurrency goes even beyond cross-border transfers and blockchain. The underlying technology of crypto tokens is secure and moves forward the progress. Furthermore, it opens new features of blockchain, increasing security and improving the overall experience of interaction with crypto.
Still, no matter how swiftly crypto is making its leaps of growth, a lot depends on the tools. Users with reliable instruments can be sure of great outcomes and secure operations. This article will overview the features of the up-and-coming solution Defiway to let you get a grip on it and use it for your benefit.
What Is Defiway
Hearing about another crypto product isn't a big surprise these days, right? New tools are always developed to help users manage tokens, invest, mine, trade, and stake. Yet, oftentimes, you will have to use multiple devices, with each of them carrying a narrow-profile function.
For instance, you will buy a desired token at a reputable exchange platform and then transfer this amount to a wallet of your choice. Add a separate payment device here, and you get a whole assorted.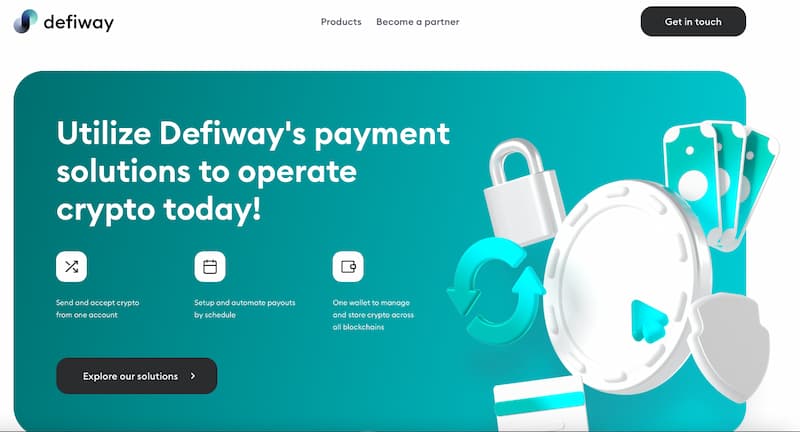 But what if we told you you could get it all in one? A wallet, trading tool, crypto bridge, helper in payments, and exchange are available with a single instrument known as Defiway. The Defiway tool combines a storage service, swapping, sending, and withdrawing coins anytime, with guaranteed security and excellent convenience.
Cryptocurrency Bridge
With the options by Defiway being listed above, it can sound sort of impossible or even redundant. But once you delve into each product by Defiway and its features, you will realize how smoothly they work together and how effortless it is to work with them.
So, the crypto bridge is the first product to introduce to your attention. A cryptocurrency bridge, or a cross-chain bridge, connects two blockchains and allows users to send crypto between them. It erases the borders between blockchains in case you want to spend some of your Ethereum, like, for instance, Shiba Inu.
Defiway crypto bridge makes financial operations possible by:
A) utilizing and converting smart contracts
B) sending data
C) tokens transfer
In other words, the bridge plays the role of a gray (neutral) zone that increases the interoperability of blockchains.
The pluses of using the Defiway Bridge include:
Painless management of crypto assets from over 20 networks.
Making safe transactions protected with security protocols.
Buying and selling crypto across markets.
Being able to pay less for cross-chain transactions.
Cryptocurrency Wallet
The concept of a wallet is simpler to understand. It involves receiving and sending tokens conveniently and having access to digital funds at any moment. https://defiway.com/ offers a wallet app to enable transactions on the go from any device. It runs on all up-to-date browsers too.
Besides, the Defiway wallet is spiced up with the following add-ons:
Storing NFTs, as well as crypto coins and tokens
Exchanging cryptocurrencies with a built-in exchange tool
Making transfers with QR codes for greater speed and convenience
No fees for sending and getting money
Support of bank cards (debit)
Operating on a joint account for all operations with Defiway
Last but not least, this wallet is non-custodial, which means the service is not an intermediary and doesn't control users' assets or access keys.
Cryptocurrency Payments
With new payment tools like Defiway, high speed of operations is no longer a luxury. To be specific, this payment service involves fast, fully secure, and cheaper transactions. It also allows users to get crypto tokens to their bank accounts without experience managing digital funds or using web wallets.
For corporations and businesses, there is a cool feature of crypto donations and pairing up with any e-commerce platform or CMS. This custom-made plugin offers a new level of integrating payment into a website to simplify things. This, in turn, sets you apart from your counterparts, making the business more competitive.
With this, users won't need to provide any fraud-liable payment data. KYC isn't needed either.
How to Get Started With Defiway
If you're at a loss about which products you really need, request a free consultation by Defiway to get all the answers and establish a perfect crypto managing routine. Here is how you kickstart your better experiences with crypto by getting in touch with Defiway:
Go to defiway.com.
On the menu, choose the product you are interested in.
For using a bridge, just choose the 'home' network and the target network. Following this, choose the wallet and connection type.
If your goal is a payment tool and you already own a crypto wallet (such as MetaMask, Math, Trust Wallet, etc.), sign up.
The website interface is quite intuitive, so it won't take long to figure out every next step.
Conclusion
Defiway is a pearl to find for an average user, influencer, online broker, payment service giver, or company aiming to expand payment solutions. For the latter, it's a surefire way to store coins safely, pay employees with crypto, send coins with no fees, and exchange tokens at a great rate.
Check out Defiway with its versatile features to serve your every need in the sphere of cryptocurrencies and make every operation fast and enjoyable.
Please Write Your Comments