LGA 2: Freelancing, SEO & Blogging Course
Hello, guys!
I think it's fantastic that you have decided to start SEO, Blogging, & Freelancing! But you are worried about the problem: you don't even know these basics. Now there is no need to worry because I have a solution for you.
Digital Applications offers a complete Digital Marketing, Blogging, & Freelancing course: Learn with GA [LGA-2]. This course will cover everything from the basics to the advanced level of SEO, Blogging, SMM, Graphics Designing, Digital Marketing, YouTube, Google Adsense, Amazon Affiliate, WordPress, Data Scraping, and Freelancing skills.
So, What are you waiting for? Hurry up and get enrolled.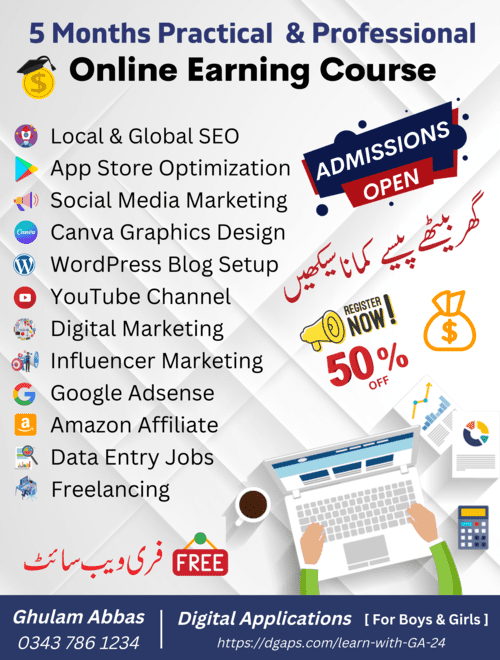 Course Content:
We will discuss the topics in detail with practicals in the LGA-2 course. We will do hands-on practice with many case studies. These are not everything; there will be more on-demand classes to meet the student's interests.
1. Computer Basics
What are the key points to check in a laptop
Computer Bios Settings
Memory Pyramid
Memory Hierarchy
How to read & write data works
Basic Hardware Information
How to setup drivers
MS Office [MS Word + Excel + Powerpoint]
Typing Tutor [English + Urdu]
Internet Browsers + Security
Google Search Operators
Keyboard Commands
Windows Control Panel
2. Local & Global SEO
Niche Research [Multiple Methods]
Keyword Research [Multiple Methods]
Traffic-Driven Keyword Selection
Content Coverage for Multi Keywords
On-Page SEO
Technical SEO
Link Building Techniques
Ranking Factors
Do's & Don't in SEO
SEO Tools
Local SEO
Tips & Tricks
3. App Store Optimization
Mobile Apps Ranking in Playstore
Reputation Management
Google Admob for Earning
4. Social Media Marketing
How to set up FB Business Account
How to set up FB Business Pages
How to run paid campaigns on FB for Business Growth
How to run paid campaigns on Instagram for Business Growth
How to increase followers
How to increase post reach
Tips & Tricks
5. Canva Graphics Designing
Creative Logo Designing
Social Media Material Design
Website Banner Design
Blog Post Material Design
6. WordPress Blog Setup
How to set up Domain & Web Server
How to Install WordPress on a Server
How to set up the theme
How to set up plugins
How to set up Blogs
How to design Blog Posts
SEO set up on WP
7. YouTube Channel
How to set up YouTube Channel
How to grow Faster for more Subscribers
How to use YT in Influencer Marketing
How to use for Grabbing New Clients
YT Tips & Tricks
YouTube Policy
How to start earning from YouTube
8. Digital Marketing
How to grow business using DM
Role of DM in Google SEO
Use of Social Media in DM
Re-Targeting Users in Multiple Ways
Email Marketing
Tips & Tricks
9. Influencer Marketing
How to be an Influencer
Role of Influencer Marketing in Business Growth
Role of Social Media in Influencer Marketing
How to generate Viral Content
Reputation Management as Influencer
Tips & Tricks
10. Google Adsense
How to set up Google Ads
Google Adsense Policy
High CPC Content for Google Adsense
How to start earning from Google Adsense
Tips & Tricks
How to flip to earn a lump sum amount
11. Amazon Affiliate
How to start earning from Amazon Affiliate
How to set up Amazon Affiliate Account
Amazon Affiliate Commissions
Amazon Affiliate Policy
Tips & Tricks
How to flip to earn a lump sum amount
12. Data Entry Jobs
Data Scrapers
Excel Data Sheets
Finding Data Entry Jobs
Fulfilling Client's need
13. Freelancing [Freelancer]
How to make a profile on Freelancer
How to Bid on Projects
How to set up Project Milestones
How to deal with the Clients
How to handle Money Matters
Freelancer Buyers & Sellers Policy
Freelancer Tips & Tricks
Commonly Asked Questions:
We receive many repeated questions daily, so we decided to answer those questions here. Remember! These are just repeated questions. It might be there are many queries you have in your mind. So you can ask via the social media accounts given below:
Read all the below-given questions properly, and feel free to ask anything about LGA 2 Course.
Why should you attend this course?
If you consider blogging or freelancing as your career, you should take this course. Significant benefits are mentioned below:
Earn Money from Home
Construct your Digital Assets
Work at your own Pace and Timing
Become your Boss
Earn Money from Multiple Sources
Better Lifestyle
Financially Strong
Grow your Business
Increase Global Exposure
Break the Monotony
Who should not attend this course?
Before enrolling in this course, there are a few things to consider. If you lie about any of these factors, you should not apply for admission. Let's have a look at them:
Who thinks that after this Course, Earnings will Start Automatically?
Lack of Patience
No Consistency
Going for Multiple Niches
No Feeling of Self-Employment
Lack of Time and Discipline
Failure to Prioritize
Never Invested in their Learning
Not Treating Freelancing as a Real Business Opportunity
Wrong Mindset about Blogging & Freelancing
What are the Salient Features of this course?
Wow! Another reason to engage in this course is that it will give you valuable and noteworthy features both during and after the training, but what exactly are those features? Take a peek at what we've got to offer:
Live Classes
Practical Training
Recording is also Available
Life Time Access
Live Support
Internship Available
Job Opportunities
Free SEO Paid Tools like UberSuggest & KW Everywhere
Free Tools & Paid Stuff [Worth $$$]
A certificate at the end, which is valid for Govt Jobs as well
What kind of support will be available in this course?
Here are the benefits that will be provided during our freelancing and blogging course:
Lifetime Support [Online + In-house]
Internship Facility for Practical Support
High-Quality Student-Tutor Interactions
Guide you on How to Communicate with Your Clients
Learn How to Grab Clients as a Newbie
Learn How to Optimize Your Market Places Profiles
Better Job Opportunities
WhatsApp & Email Notifications
Facebook Group Support [Learn to Earn from the Internet]
Retention Rates are Higher
What are the class timings and schedule?
This is an Online Course through Zoom Application. There will be 3 classes in a week at 9 pm from Friday to Sunday. This timing can vary as well according to the student's needs in the future. InshaAllah, the orientation class will be on 7th July 2023.
1st Class on Friday [online] from 9 pm to 11 pm
2nd Class on Saturday [online] from 9 pm to 11 pm
3rd Class on Sunday [online] from 9 pm to 11 pm
What will be the fee structure of this course?
We have the lowest possible course fee just to meet our expenses. The fee is 20,000 PKR for the whole course including all the paid tools and software. If you register by the 10th of July 2023, the course fee will be 15,000 Rs. This course fee is non-refundable and non-transferable after the 5th Lecture.
You will get the following benefits in this Course:
Complete 5 Months Course [Live + Recordings]
Paid SEO Tools like Ubersuggest & Keyword Everywhere
Paid other Tools like Canva Pro
Paid Stuff like Premium Themes & Plugins
Free Blogging Website if you buy our recommended Hosting
Proper Lifetime Support
Internships Opportunity
Many more
How can I do practical of SEO & Blogging?
SEO, Blogging & WordPress are the things that can be learned easily only with the help of practice. You need to have a website for this purpose. If you already own a WordPress website, this is perfect. Otherwise, you can buy a Business WordPress Hosting using our Referral Link: https://www.hostg.xyz/SHB08 & we will develop a 100% free of cost blogging website for you.
What are the internship and job offers for the students?
You can apply for internships and jobs during & after this course in Digital Applications. The following criteria will be applied:
All the students can join our office for internships to practice their professional expertise during & after this course. [This offer is only for the students of Khanewal city]
Selected students will be offered jobs with attractive packages after the internship period.
Our office SOP will be applied to all the internees & jobians.
How to get admission in this course?
The following are the steps to register for our course:
Open this link: https://dgaps.com/reg or Google Registration Form
Follow the instructions given on the Registration Form
Pay the Course Fee in either of the given accounts
Upload the Screenshot or Proof of Payment
You can also visit our office [Digital Applications] to get registered
If you cannot get it, call this number: 0343 786 1234.
Once the Registration Form is submitted successfully, you will get a confirmation message on WhatsApp after a day or two.
After registration, you will be added to our dedicated WhatsApp Group for notifications and updates about classes.
What if I cannot afford the fee?
You can apply for our scholarship program if you are a needy as well as talented student. You will get all the benefits of paid course mentioned in Question # 6 with 75% Scholarship in Fee.
The following are the steps to get free admission:
Open this link: https://dgaps.com/free or Scholarship Form
Follow the instructions given on the Registration Form
We will take an Online Test to evaluate you.
Please watch this video for further detail: https://youtu.be/HAzg76ljCRg
Is there any free course by Engr Ghulam Abbas?
Our course fee is very less as compared to what we are delivering. But, if you are still not able to afford our fee, we have a free course for you here: Free SEO Complete Course
You can share our free course with everyone.
Who will teach this course?
The course will be taught by in-field expert instructors. Those who have successfully made multiple thousands of dollars in the digital world will be assigned different topics to guide you. This course will be done under the core supervision of Engr. Ghulam Abbas. You can learn more about him in the section below.
50+ Common Question-Answers about LGA Course
Who is Engr Ghulam Abbas?
Ghulam Abbas, a top-rated freelancer, will be your Instructor. Here is a brief introduction about him:
Education:
BS Systems Engineer [Gold Medalist]
MS Signal Processing Engineer [Gold Medalist]
Experience:
CEO of Digital Applications Software House
Founder of Umeed Welfare Khanewal
Top Rated Freelancer [Top 1000 in the world]
Success Story Published on Freelancer .com
Freelance IT Trainer [He has conducted Workshops related to IT & Freelancing in more than 15 Universities]
Guest Speaker in National IT Events like Summit Punjab
Handling Many National & International IT projects, including some Projects of the Govt. of Pakistan
Some NDA signed big international projects
Ex-Lecturer Electrical Engineering Department in Institute of Space Technology Islamabad
He - currently teaching many different online & in-house courses. Most of them are free of cost, and some with premium subscriptions
Self Earning: Earned more than a Million USD from Digital World. [Record Earning]
Instructor's Dreams:
Want to be a Good Teacher
Want to polish as many people as possible for Online Earning
Want to help as many Freelancers as possible to be Successful like me
Want to enhance a welfare NGO [Umeed] for needy students
Still, is there any confusion? Please WhatsApp here: 0343 786 1234